If you are ready to buy a VoIP phone and have done the research and decided on Polycom, congratulations!  Now you just need to narrow down your selection from the 9 Polycom phone models offered and the 2 variations of each model, so here we go!
Know your Phone Traffic
Knowing what kind of call volume your business has or will have is imperative to deciding which Polycom phone to install.  Sure, any Polycom phone will perform exceptionally well even if the user is on the phone 24/7, but it won't necessarily help the user be more effective or satisfy your customers who are calling in.
The IP321, 331, and 335 have 2 SIP lines, 3 soft keys, and a 2.5mm headset port (IP335 has an RJ9 headset port).  If your user will rarely have more than 1 call coming in at a time and will have little need to transfer, this phone will work just fine.  Yes the IP321/331 and IP335 are capable of call transfer, but there is only one hard-key for busy lamp field (BLF) so multiple "favorite extensions" is not possible.  Also with only 3 soft-keys and the basic hold, headset, speaker, menu, and dial hard key, the use of special features like conference, transfer, and redial are a bit more cumbersome.  So the Polycom SoundPoint IP321, IP331, and IP335 are recommended for a desktop where there is very low call volume, or common areas like break rooms, kitchens, copy rooms, and lounges.
For most deskbound positions with medium to high traffic volume (think 12+ calls a day) the IP450, IP550, or IP560 is a sound, budget conscious choice.  The Polycom SoundPoint IP450 and IP550/IP560 have 3 and 4 SIP lines, respectively, offer HD Voice wideband sound on both the speakerphone and handset, which is awesome, have RJ9 headset ports, and have a large backlit graphical LCD display.  Four context sensitive soft-keys give the user more options at their fingertips.  For those requiring more complex phone functionality like transfer, conference, company directory, and Do Not Disturb, the IP550 or IP560 is recommended over the IP450. The IP550/IP560 has 4 context sensitive soft-keys and a Mute, message, redial, speaker, handset, and hold, like the IP450, but it also has dedicated hard-keys for Directories, Applications, Conference, Transfer, and Do Not Disturb.  I have a Polycom IP550 at my desk and I love it lots. It offers 4 SIP lines, 2 of which I have assigned to my extension and the other two I use as a BLF for my 2 most dialed extensions.
Phone users who would be considered "super users" would most definitely need an IP650 or IP670. These super users, such as receptionists, operators, and call center managers need more than a few Busy Lamp Fields for transferring to multiple extensions and monitoring others' phone status. The IP650 and IP670 offer 6 SIP lines that can be used as BLF extensions right out of the box, however, you can add up to 3 sidecar modules to these bad boys to give you an additional 12 BLF extensions each.  The Polycom sidecars are nicer than most because instead of using paper inserts, the labels are an LCD screen (monochrome for the IP650 and color for the IP670).  This offers flexibility for the administrator to change extensions quickly and for the user to see the changes in real time without having to print out and insert a new paper label.
Know the Power Capabilities at the Phone Installation Area
Consider carefully where you will be placing your Polycom SoundPoint IP phones before you decide on a model.  First question you should ask yourself is will these phones be attached to a PoE (Power over Ethernet) switch?  If so, all Polycom SoundPoint IP Phones are PoE, so you are cool there, but don't spend more than you need to.  Most Polycom SoundPoint models come in two variations, with (part number ends in -001) and without an AC Power adapter (ends in -025). If your network is already PoE, make sure you buy a Polycom model that ends in -025. Why pay for a power adapter you don't need?
Secondly, will the desktop or location you are installing the phone have 1 or 2 RJ45 jacks?  If there is only 1 and there will be a PC there as well, you need to choose a Polycom phone that has a dual RJ45 switch integrated into it. This will allow you to plug the phone into the single wall jack, and then the PC into the phone, passing connectivity through to both appliances without having to install expensive additional wiring.  Polycom IP Phones that offer the dual RJ45 jacks are the IP331, IP335, IP450, IP550, IP560, IP650 and IP670.  So if you only have one network jack and need a phone and PC there, stay away from the IP321.
Another consideration here is speed. If you are using your Polycom IP Phone to pass data through to your PC (dual RJ45 jacks) you should consider the speed of your server switch.   If you have a 10/100/1000 network switch and want to offer gigabit speed to your PC, you need a Polycom phone not only with dual RJ45 ports, but with dual 10/100/1000 RJ45 ports.  That narrows down your selection quite a bit more.  If you are looking for a gigabit Polycom phone, your choices are the IP560 or IP670.
Just How Cool Do You Want To Be????
The Polycom IP650 and IP670 are virtually the same phone with 2 major differences. First, the IP670 has gigabit support (boring).  But even cooler is that the IP670 and its sidecar support a full color LCD, so you can choose color schemes or set pictures as your background. In addition, the IP670 has a USB port for local call recording. That's pretty cool, and necessary if you are in the legal or financial industry where you may need record of phone calls on the fly.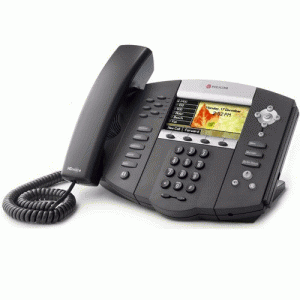 You should also consider Polycom's HD Voice.  Polycom HD Voice equipped phones not only support the G.722 wideband codec, but they also build up their hardware in the handset and speakerphone to enhance the HD voice sound.  It is really better than actually being there.  Today, HD Voice is really a cool factor, the sound of it will just amaze you, but you only really experience the rich sounds when both you and the other party are on HD Voice phones, the call is completely IP, and all PBX's involved support HD Voice.  For today that may only involve internal calls and outbound calls with a few clients. However buying a Polycom phone that is equipped with HD Voice will be future proofing your infrastructure for the next 5 years. More and more phones are coming standard with HD voice support, and as the world continues to migrate to IP PBX's, most already support HD voice and if they don't, it is in their upcoming upgrades.
My Recommendations
Because you asked, and even if you didn't I am going to tell you anyway, I recommend the Polycom IP450 for most office applications.  I am a moderate phone user and I have the IP550. The extra hard keys for Directory, Applications, Conference, Transfer, and redial are nice, but I don't really use them.  My IT guy has provisioned some of these options into the context sensitive soft-keys company-wide for some of the users who don't have the IP550 and I use those for transfer and redial.  Yeah, the IP550 is pretty cool, but if you are on a limited budget, the IP450 should still do you well.  Of course, for high volume users like secretaries and receptionists, you would need the IP650 and the IP650 sidecar.  IP670 is a must in legal or financial scenarios where local call recording is required.